The Lost Track
On The Streets of Milwaukee
I'm one of those lazy ones when it comes to gym or jogging. I don't even remember when I jogged last. Gym has been on and off with a total I can count with my fingers of one hand. After all it's for those who want to be fit; not for those who are already fit. 😉
Anyhow, I started practicing for a 5K run scheduled for June 24th Sunday morning. I jogged 3 times in last 10 days. First two were short, may be 2 miles each. The last one went crazy and that is what this post all about!
Yesterday at around 7PM I started jogging and was planning to jog till Alterra Coffee by the lake side (1.3 miles), take some rest and then come back on another route to join my friends in a tennis court and play. The coming back took a wrong turn. I had an idea about which direction I should head but I forgot to take into account the curve from Oakleaf trail to tennis court and then from there to Lafayette. I started running perpendicular to the place I wanted to go!
After a while as I couldn't see any familiar places and the tall buildings in downtown was nowhere to be seen. I realized I was kinda lost. But I still had some idea on which direction I should go. Couple of more minutes of jogging and I knew for sure I was in the wrong direction. I tried to see which side are the tallest buildings of downtown Milwaukee. Unfortunately, I couldn't see any! It was around 8:15PM and started getting a little dark. The roads I was on didn't look as safe as the downtown. It was time to ask for direction.
[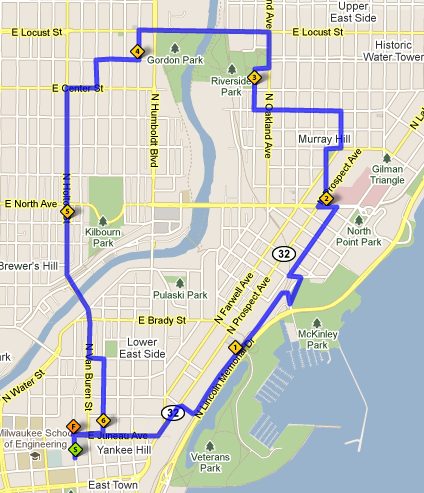 ] (
http://www.walkjogrun.net/routes/current_route.cfm?rid=21559DDF-D528-3906-545FAAB8F1C01E82
)
First up, a communication shop on Holton and Center street. He didn't understand my pronunciation of Cass Street and asked me to go ask elsewhere. Damn, in my country people would try at least. On the other side of the road, there was a store and as soon as I went in, I knew these guys are from India! However, they were more confused than I was; I got scared not being lost, but because of their tone. I turned back to see 2-3 guys trying to eavesdrop. I got out and checked with a couple for direction.
I took a turn on Holton as directed by my fellow countrymen and confirmed by the couple. As soon as I turned, I could see my apartment building right from that place. I don't know how I missed seeing it a minute ago. It would have spared me from asking others. Anyway, it was another couple of minutes of jog before I stopped at tennis courts to find my friends still playing. From there, we headed home together. After a little more than an hour and thirty minutes on The Lost Track, I finally reached home at 9PM.
I watched a video of Jaycee Lee Dugard yesterday and read about Leiby Kletzky, an 8 year old boy from Brooklyn, in news today. Even though I'm an adult, I know, I'm (we are) not safe on the roads in US. That's sad!