Ride Lobo Ride - UPAF Ride For The Arts 2012
Sometimes stupidity takes over common sense.
Over quarter of a million participants have taken part in annual United Performing Arts Fund (UPAF) Ride for the Arts since 1981. According to UPAF, which provides financial support to 36 beneficiary groups, the ride helps keep the performing arts scene dynamic and a vital part of the community's culture and that they are among the nation's largest united arts funds in terms of dollars raised and number of donors.
I took part in UPAF ride for the arts 2012 along with thousands of other bikers. I wanted to ride on the Hoan bridge, but it was only in 25, 50, and 75-mile routes and my original plan was to ride only 12-mile route. I didn't want to take a chance with only one 10+ mile rides under my belt. However, this morning on my way to the start line at 8:20AM or so, I noticed the ride had already started. 12-mile ride was scheduled to start at 8:30AM and I wasn't sure if it was 8:30AM already or if they started the ride early. I just jumped right in and started riding the bike two or three blocks from the start line!
After a mile or so into the ride, I started noticing the bibs on all riders and they all read, '25 mile ride!' I thought of returning to the start line for the 12-mile ride, but I took it as a challenge to stay on and ride 25-mile!
What did I miss? One, the start line and two, the Hoan bridge! Kinda sucks, doesn't it?
Mistakes? Not having enough sleep, not stretching before the ride, skipping breakfast, not stopping at any stations to grab a snack or a energy drink. Sometimes stupidity takes over common sense. Around 5-mile to the finish line, my calf muscles gave up. Thankfully, the last station was just a few blocks away. I stopped for a while and grabbed 2 granola bars and a gatorade. The next 5-mile stretch took me 30 minutes or so.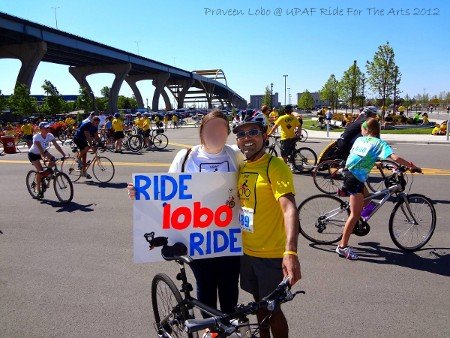 All that feeling of missing the start line and the Hoan bridge, and the pain went away in an instant when I saw two familiar faces holding a poster that read, 'Ride Lobo Ride' This was the only poster I saw in the entire ride! I felt bad for them as they were waiting there expecting me in the 12-mile ride without knowing that I had taken 25-mile ride.
According to the Endomondo app (which I forgot to start on time), I completed 22.80-mile in 1 hour and 45 minutes with the average speed of around 13 mph and a max speed of 23.6 mph.