One Hell Of A Tiring Weekend
Skydive Plan Gone Wrong And Lake Geneva Again
If everything went according to the plan, I'd have had my first ever free-fall by now. But the mother nature had some other plans. Six friends and I had planned for a skydiving weekend on my room-mate's birthday last Saturday. Two of them had come down from Chicago. The venue was none other than the closest Skydive Midwest. None of us had previous experience and were looking forward to having a great time. We reached the place a couple of minutes after our scheduled time and registered at the manifest. Basically, we just put our lives on the line and signed contracts saying Skydive Midwest will not be liable for any accidents. Six of us were to do tandem jumps and I solo (Accelerated Free Fall - AFF). Don't ask me why I decided to jump solo; I don't know!
A French guy was my only classmate! My classes went until noon and by the time I was out my group also had training. And then it was the waiting game. It rained heavily once and the plane had to come back without any jumps. By evening, our turn had come. My group completed their tandem jumps by 6PM and was ecstatic and engrossed in the pictures and videos of themselves skydiving! I was scheduled to go in load 21 and it was only 17th load running at that time. Within an hour the weather changed - it got very dark; clouds moved in and wind picked up speed. AFF jumps were canceled for the day.
I went again on Sunday morning; everything was perfect except the north winds. I decided to visit later in the day and left.
Btw, I must tell you, the staff at Skydive Midwest is so amazing. We loved the day spent at Skydive Midwest. Though I didn't get to dive, it was worth spending a day with friends; attending the classes with a wonderful teacher (Susanne); another young lady staff I talked to; patiently waiting; watching people; cute announcement once in a while; and lovely Laura at the manifest.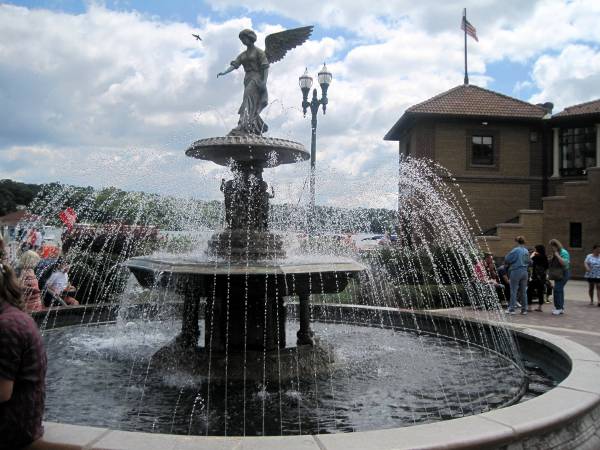 After returning from Skydive Midwest on Sunday, I took my visiting friends to Milwaukee Arts Museum and a bit of lake side for site seeing. We then headed to Lake Geneva (fourth time for me!). The plan was to rent a boat and spend time but due to time crunch we decided to take the boat tour around Lake Geneva. I skipped it this time. The group had been on boat and I walked around the shore path between the lake and the houses for sometime.
Anyway, I dropped my friends to Kenosha Metra station and came back to Milwaukee in the evening. On my way back, the weather was good and it didn't look as windy as it looked in the morning. I was supposed to go Skydiving in the evening if the weather turned out good; but, I dropped the plan as I was too tired and didn't feel like going. Now, I need to rent a car again to go skydiving which costs me around $50!
Whatever it is, my personal record of jumping from a whopping 6 feet above the ground still stands unbeaten! Ha-Ha!
PS: Apologize for sensationalizing the title!