Halloween 2010
Remember, Remember the fifth of November.
Dear blog, as you know, uh oh you don't, do you? I never mentioned about it! I'm in US right now. The very fact that I haven't mentioned it till now shows how busy I'm here! Naah, not really, that's what I say when I turn lazy and forget about you. I won't promise you that I won't again; I can't keep such promises. Sorry!
Anyway, this is kind of new. Different lifestyles. Cultures. New friends. Work environment. Schedules. Meetings. Food. Currency. Everything. To some extent, I'm leading a different kind of a life which I don't exactly prefer but don't mind trying for some more time.
Beneath this mask there is more than flesh. Beneath this mask there is an idea, Mr. Creedy, and ideas are bulletproof.
The reason I came here is to tell you about Halloween. There have been numerous events after I landed in US which I plan to tell you later when I catch hold of some photos, may be briefly .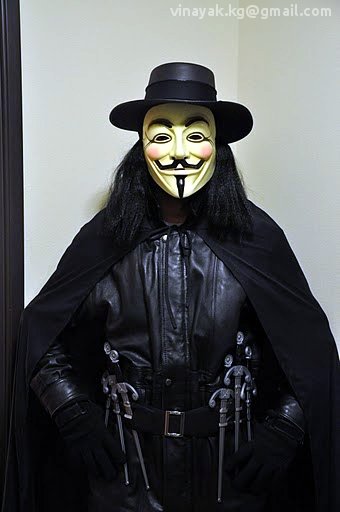 I bet, I didn't know about Halloween until recently. I didn't have any clue until this Saturday afternoon that I will be wearing any costume as part of Halloween at all. It's when these friends of mine started buying costumes, it hit me that I should also try something. That's all. I became V - V for Vendetta.
We went to Water Street here in Milwaukee. It was really nice. A lot of people recognized on the way. Some were shouting V. A couple of them appreciated the costume. Best part was when a girl recited 'Remember, Remember the fifth of November. The gunpowder treason….'
Cool eh? I bet. It was fun too. It was really amazing to see everyone in Halloween spirit. My friends were also dressed up very cool. See for yourself. Before that, here, a cool dialog from the movie.
:

I can assure you I mean you no harm.


Evey

:

Who are you?


V

:

Who? Who is but the form following the function of what and what I am is a man in a mask.


Evey

:

Well I can see that.


V

:

Of course you can. I'm not questioning your powers of observation I'm merely remarking upon the paradox of asking a masked man who he is.


Evey

:

Oh. Right.