A Perfect Season - Green Bay Packers
Elle Meissner - The Lions haven't won a championship since her grandfather was 5 and haven't won a playoff game since her father was 10, in her lifetime, the Detroit Lions haven't lost a game. more
This news reminded me that I haven't seen a single game that Green Bay Packers lost! The first time I heard of American Football was at the end of 2006 in a session helping people understand the basics of the game. It was conducted by one of my senior colleague in Mangalore office. I never really got interested until I moved to Milwaukee in 2010. I kept on hearing about football for months before I really followed anything.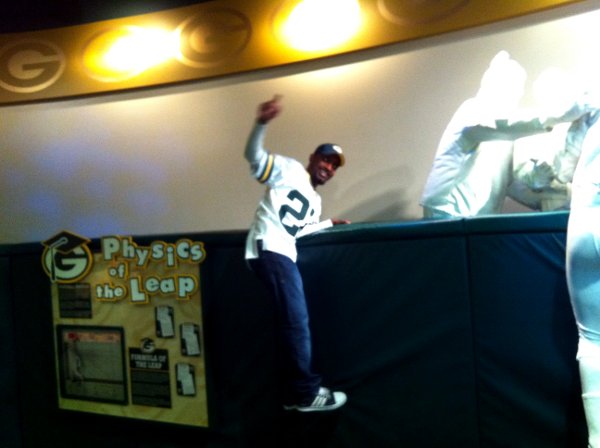 Packers had just beat New York Giants and were about to play Chicago Bears on January 2nd 2011, it was the beginning of the post-season, Packers were playing good and I was in Milwaukee. What else does one need? It was a perfect setting and I became the newest Packer fan in town and boy oh boy, they didn't fail to impress me. They won the first game, then the second and then the third and on and on and on and the winning streak is still on. Packers have not lost a single game since then!
Can you believe it? (drama alert!) I must be the only fan in the world to see his team never lose a game! We even came back from 0-16, 0-14 to win the games. It's too early to talk about a perfect season, but I hope we do it; even if we don't, I will still be a proud Packer fan. As I said before, it's hard not to be a Packer fan.
Yours truly,
The Luckiest Packer Fan Right Now! 😄
And, now an owner too!
GO PACK GO!
---
45 - 17 vs New York Giants (I wasn't following football yet)
10 - 03 vs Chicago Bears (followed the scores online!)
21 - 16 vs Philadelphia Eagles
48 - 21 vs Atlanta Falcons
21 - 14 vs Chicago Bears
31 - 25 vs Pittsburgh Steelers (SUPER BOWL!!!)
42 - 34 vs New Orleans Saints (My first game at Lambeau Field!!!)
30 - 23 vs Carolina Panthers
27 - 17 vs Chicago Bears
49 - 23 vs Denver Broncos
25 - 14 vs Atlanta Falcons
24 - 03 vs St. Louis Rams
33 - 27 vs Minnesota Vikings
45 - 38 vs San Diego Chargers
45 - 07 vs Minnesota Vikings
35 - 26 vs Tampa Bay Buccaneers
27 - 15 vs Detroit Lions
38 - 35 vs New York Giants
46 - 16 vs Oakland Raiders
---
[ updates: included scores vs Rams, Vikings, Chargers, Vikings, Buccaneers, Lions, Giants, Raiders.]
Finally, we lost to Kansas City Chiefs (14-19) and then lost to Giants in the first playoff game!